The Republicans who managed to pass the American Health Care Act face off with the Lone Star State and their Governor's signature on a law banning Sanctuary Cities–over the protest of every major police chief in Texas and in the name of "public safety." How to decide which is worse?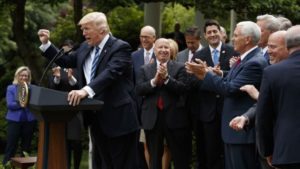 On one hand, the outright glee of the Republicans–who had just stripped away requirements for what shall be covered and limitations on whom insurers can exclude and how much insurers can charge the most vulnerable in our society for what they (we) need in order to survive–was indeed a new low in my experience of politics coming out of Washington, D.C. Whatever else this represents, it is hard to understand this as a reason for joy, for celebration, for doing any kind of Happy Dance moment.
Yet it is not law, not yet…and may never be. So:
On the other hand, the Texas action banning Sanctuary Cities is now law–replete with criminal penalties. This law means that, going in the opposite direction of states seeking to nullify federal actions, here we have a state insisting that its own state workers become arms of the federal (Trump) government. What is more, it has equated those who might seek and need sanctuary with a major threat to public safety, with rapists of minors, with … well, let me just quote the Governor upon signing this legislation:
"As Governor, my top priority is public safety, and this bill furthers that objective by keeping dangerous criminals off our streets. It's inexcusable to release individuals from jail that have been charged with heinous crimes like sexual assault against minors, domestic violence and robbery. There are deadly consequences to not enforcing the law, and Texas has now become a state where those practices are not tolerated. With this bill we are doing away with those that seek to promote lawlessness in Texas."
Although it would give me emotional satisfaction to award the House Republicans that #1 spot, the fact that this limitation on providing succor and solace to the persecuted in Texas (whose own history involved… oh, save that for another day) IS now law catapults them into the #1 slot in the Race to the Bottom.