Economic and political thinkers as diverse as Adam Smith and Karl Marx (and some would add Aristotle and St. Thomas Aquinas) have all stated that labor is the source of all that we have–in brief, the source of all wealth. There is no creation without labor. There is no capital without labor. There is no business, no shareholders, no rich people without labor. We have no clothes, no appliances, no vehicles, no computers without labor. You cannot read this blogpost (nor can I write it on a laptop) without labor.
One of the delightful things that docents (or dragomans) will point out when you visit (and you really should if you are blessed enough to be able) Firenze (Florence), Italia: At the base of the famous Bell Tower–Giotto's Campanile, the tall building to the right in the photograph–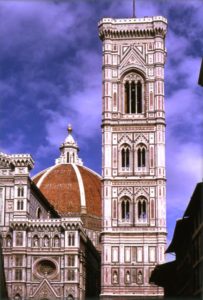 are a series of astounding hexagonal panels circling the base and moving upwards until reading the lozenges and niches above. The very first level of panels tells the story of creation, based upon the biblical account of Adam and Eve. And immediately alongside and above and providing the foundation for all that follows (in the words of those explaining the meaning of the Campanile) are the symbols of labor, including animal husbandry, smithing, wood-working, and masonry. The docents then discuss at length how nothing above that is represented on the Bell Tower–the higher arts, the professions, philosophy, even theology–can exist save for the foundation of labor.
Somehow, in the United States, we have turned the Campanile on its head: we believe that the foundation are the capitalists who create jobs and, out of their own generosity (i.e., cutting into their rightful profit margin), allow certain benefits (that larger corporations wish to control, such as whether female workers may use their health-care benefits for birth control). We find ourselves taking as axiomatic that "of course, employers want to pay the least necessary for their labor costs" and then we turn the working class against undocumented persons who are hired at sub-standard wages–blaming the undocumented workers for driving down the wages of American citizens. This is, of course, upside-down. No one but no one can ever force an employer to pay sub-standard wages or to hire undocumented workers. No one can require employers to pay the least amount possible to laborers–documented or otherwise. There is no right, in fact, to own or operate a business, and if the employer cannot afford to pay reasonable wages, then perhaps the employer can go back to joining the labor force.
I am not writing here of small-business owners who are in fact worker-owners. In fact, these are typically the employers who work the hardest to do right by their employees, not seeing them as "resources" but as persons with families and lives and importance in and of themselves. But I am speaking about those who do not hesitate to find tax loopholes, to outsource labor to other countries, to hire undocumented workers, to bust unions, and to do all that they can from the security of their own comfortable offices and pensions and golden parachutes to maximize profits and bonuses for themselves, their shareholders, and their ilk–who threaten to pull their plants out of one area if they are expected to pay property taxes (like any homeowner must!), and who proclaim that they are about "job creation." It is my observation that no one has ever been employed and no job has ever been created (excepting those rare jobs created for one's family members who can't hold down a job elsewhere!!) where the employer did not expect to get richer by employing that individual or creating that job.
Without labor, corporations are impossible. Without labor, dividends don't issue to shareholders. Without my father's labor as a letter carrier and my mother's labor processing payroll for a construction company in Scottdale, Pennsylvania, I would not be a theologian, a lawyer, a writer. Without labor, there would be no MacBook Air for me to write this blog on. Without labor, there would be no tie-dye t-shirt, Merona shorts, Calvin Klein underwear, Wilson white socks, and New Balance shoes for me to wear as I type away. Without labor…
So I invite us to use this one day each year to think about how utterly dependent we are upon labor, to honor and uplift labor as the foundation of all that is possible in our lives, and to celebrate those who labor with recognition and thanksgiving.